Fake lashes look great, but applying them is a pain in the ass! Not really.
So, in order to learn how to apply false eyelashes correctly, we enlisted the help of some of the top makeup artists in the business.
If you are looking for something to spice up your look and draw attention to your eyes, you can not go wrong with false eyelashes.
The process of putting fake lashes is quite simple and should only take a few minutes once you get the hang of it, even if it takes you a few attempts.
False eyelashes might be scary to apply, but they can elevate any eye makeup look to a whole new level of opulence.
A Step-by-Step Guide on Putting on False Eyelashes: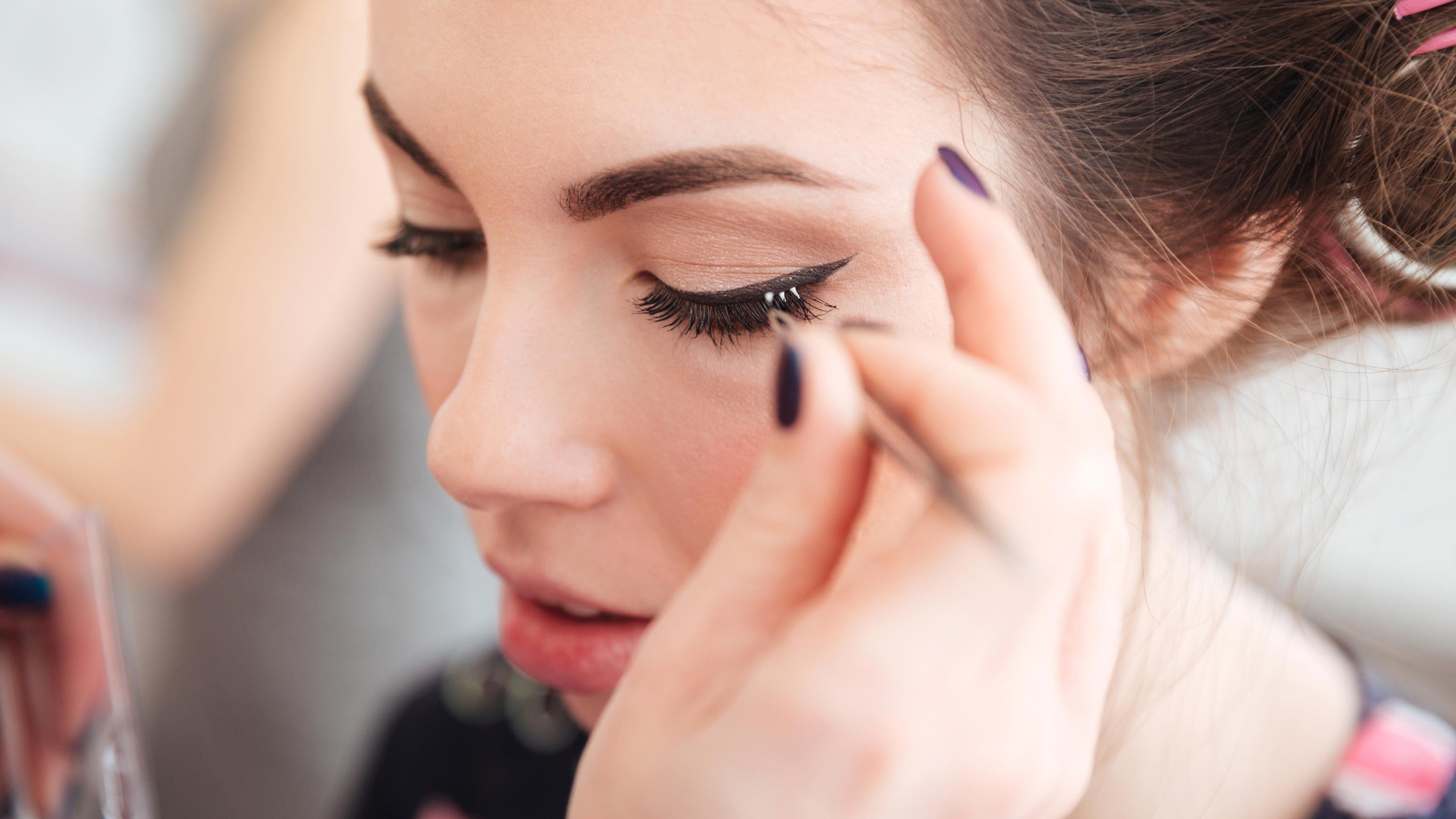 Even if this is your first time putting on artificial eyelashes, here's how to do it like a pro.
First and foremost, I urge you to begin with some less costly lashes before investing in any silky mink sets, since you may have a heart attack if you do.
It is a good idea to take a piece of tape and measure your eyelid, then clip the excess away from your eye.
There are two ways to employ the additional length: either stack it on top of the lash strip in the corners of your eyes for added oomph.
Moreover, you may use it to draw attention to your own natural outer lashes, much like the train of an evening gown.
Preparation Is Key When It Comes to Lashes:
Prepare the glue and artificial eyelashes, then select where to apply them along your lash line. Various types of false eyelashes are available, such as strip lashes, individual lashes, and group lashes.
To attach the lashes to your eyelids, you will need a special adhesive. If required, use cuticle scissors to shorten your eyelashes so that they have a more natural appearance.
You may also cut eyelash strips in half to make it simpler to apply.
Apply longer lashes to the outer corner of your eye to get a cat-eye effect.
Apply Eyelash Curler on Your Eyelashes:
Curl your natural eyelashes with the help of an eyelash curler You may get a more natural look with this technique.
When utilizing individual lashes, use one coat of mascara to avoid clumping. (If you are using strip lashes, you will want to add mascara afterward.)
To get the adhesive ready, follow these steps:
The back of your hand, the lid, or any flat surface may all be good places to start. Use the back of your palm as an individual lash palette.
You can do this by:
Dip the back of the strip into the eyelash glue for a complete set of lashes.
Bend and twist your strip lashes to fit your eyes while the adhesive dries until sticky.
Attach the adhesive side of the lash strip to the top of your lash line using your hands or a lash applicator.
Use tweezers to dip the end of each lash into the glue and apply as near to the root of your eyelashes as you can safely with individual lashes.
Gently Fluff Your Lashes:
Mascara may be used to help mix your natural lashes with fake ones. Remove any clumps of mascara by swiping a spoolie brush over it.
In order to cover up the lash line, use liquid eyeliner to blend them into the rest of your eye makeup.
Eyelash Extension Remover:
When you are done for the night, do not forget to take off your artificial eyelashes. Using a cotton swab, apply a little amount of warm water or eye makeup remover to the region where the glue is located.
Allow the makeup remover to do its work for a few minutes. Removing eyelash extensions should be done carefully.
Conclusion!
If your fake lashes are too long for your face, you may cut the eyelash strip before applying it.
A more natural-looking fake eyelash strip may be achieved by trimming individual lashes inside the strip.
Using a pair of scissors, cut off the ends of your natural eyelashes before applying eyelash extensions.